Community Caterpillar brings school together.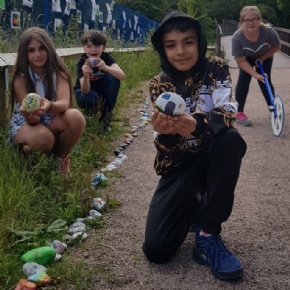 A community inspired caterpillar made from painted stones has appeared along the edge of Oldfield School on Bray Road. While the school reopened for some classes last week, the school wanted to launch a community project everyone could take part in, regardless to whether they were working in school or from home.
Mr Marchant, Year Three teacher said, "The wellbeing of all our children is so important to us right now, and while school isn't open for everyone we know children everywhere are working hard and this is something they can all share a part in." Along the school fencing, a poem accompanied by drawings by school children can be seen which show bright and colourful caterpillars. "Just like caterpillars we are going through a strange transition in learning, but in the end our learners will grow into bright butterflies." Mr Marchant added.
Anyone and everyone is welcome and encouraged to join in and help the caterpillar grow longer by adding their own painted stones. The caterpillar can be found on the footpath next to the bridge leading to Braywick Park.
Painted stones will bear the weather if they are sealed with varnish, decorated with model paint or nail varnish. The school is proud of everyone's commitment and effort in the display of community togetherness even while we have to stay apart. Head Teacher Mr Jarrett thanked the parents for supporting the children's mental health and wellbeing and doing their very best.